This is where most 'newbies' mess up.  They hear 'replace the board', 'redo the connectors', 'rebuild the power supply', etc.  These are all good strategies, when there is a reason to.  But don't do this until you have an idea of what is wrong.  
Jumping in and replacing / fixing stuff without testing first is just being stupid. Don't fall into this trap.
Prior to proceeding, please read and understand our Caution section.  Note that pinball machines contain high voltages and can kill.  Do not proceed unless you are qualified.
The following information cannot cover everything.  There are other sections on this site that covers many of those.  This is for 'nothing works and what do I do?'
Troubleshooting SS (Solid State) Pinball Machines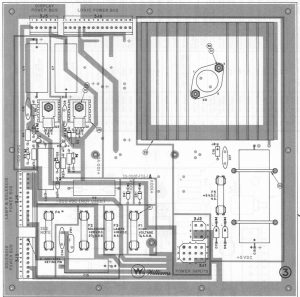 On all solid state machines, there are two important steps when (almost) nothing works:
1) Unplug as many boards as possible.  Troubleshooting when things are wrong can cause more expensive and hard to repair problems.  We will cover this later.
2) Check the fuses and measure your voltages.  Checking the fuses is covered under that link.  What we cover here is how to check the voltages.
On essentially all pinball machines, the (120, 230, 100, or?)  VAC comes in from the wall plug, into a transformer and out to the power supply.  Some games have two sections of power supplies: rectifiers (convert AC to DC) and voltage regulators.  Other games combine those two sections into one.  Sometimes the power supply is part of the solenoid control board two.  Still others have multiple power supplies.  
All of the following assumes you have basic tools including a voltmeter (DVM) and know how to safely use it.  And understand basic circuit diagrams.  If you don't, you should not be doing this.
Tools Required
*  A reasonably good voltmeter (DVM) with good test leads.
* Screwdrivers.  Phillips and slot.
* A manual for the pinball machine that includes a circuit diagram.
Sometimes Needed Tool
* Allen Wrenches.
* Nut Drivers.  Usually English.
* Needle Nosed Pliers.
* Wire cutters / stripper.
* Crimper and supplies.
* A good set of test leads that can clip onto a wire.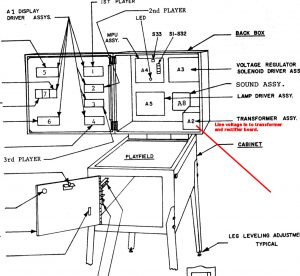 This covers Bally pinball machines known by the shorthand -17 which were made from 1976 – 1979, -35 which were manufactured from 1979 – 1985, and the few -133 Bally games.  Also covered were early Stern SS pinball machines known as M-100 and M-200. 
How to troubleshoot early Bally and Stern Pinball Machines.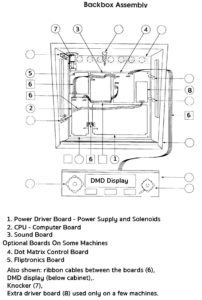 This covers WPC pins manufactured by Williams under both the Williams and Bally brand.  Manufactured from 1990 – 1998, the end of the Williams and Bally pinball era.  This covers all types of WPC pins, including alpha numeric, DMD and WPC95.
How to troubleshoot Williams / Bally WPC pinball machines.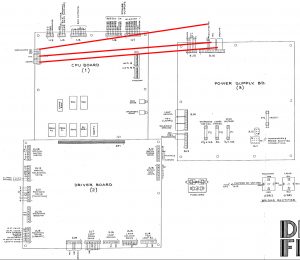 This covers early Williams pinball machines System 3, 4, 6, 6A and 7.
How to troubleshoot early Williams System 3 – 7 pinball machines.
This covers Williams pinball machines 9, 11, 11A, 11B and 11C. 
How to troubleshoot Williams system 9 and 11 pinball machines.
EM pinball machines are an entire category all to themselves.  No circuit boards with ICs, resistors, or transistors.  Only relays, wheels, solenoids, lamps, etc.
Find out how to start troubleshooting your EM pinball machine.