Restoring Pinball Machine Artwork
We have always wanted to have a section on restoring the pinball machine artwork: playfield, cabinet, plastics, backglass, etc.  We put together a few articles but did not have enough.  One of the best resources was Pinballrehab but that was no longer available.  With the permission of TerryB, the owner of Pinballrehab, we are re-posting his extensive list of tutorials, along with a few of ours, to make one of the best collections of 'how to' resources.
[Note: As of December 23, 2019, we have restored only a small portion of the articles that were available.  More to come.]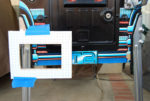 Everything from scanning, artwork editing software, printing, etc. to make your pinball cabinet plus the backbox / head look almost like new.  Use of bitmap software (Photoshop, GIMP, Corel PaintShop Pro, etc.). These articles have been restored from the former PinballRehab.com website and we are in the debt to TerryB for the permission to reproduce them.  More information…..
Whether restoring the cabinet or the playfield, matching the color is one of the biggest challenge.  Here is how to do it.  More information…..
How to spot paint areas of a worn pinball playfield using an airbrush.  More information…..
How to scan, fix the artwork in software editing programs, print on decals, and apply to plus cut the plastics.  
Step-by-step procedure and everything you need to know.   More information….
A mylar playfield overlay will make your pinball machine look brand new.  Here is how to do it the right way.  More information….
External Links
Our external link page – Lots of information on parts, specialized parts and repair information.
Ramp-O-Matic – Recreation of pinball ramps.  Great tutorials, too.