Flipper Parts
Bushings
Flipper kits as supplied frequently do not include new bushings.  Bushings can typically be reused unless they are damaged.  Inspect the flipper bushings and be sure to order new ones if needed.
There are several different bushings for different games.  Check here, or here for the proper replacement bushings.
Components – Typical setup in an EM or early SS pin.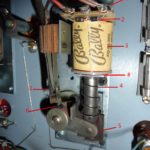 1) EOS switch (and sometimes upper flipper or lane change switch combination) *
2) Diode (SS pins only)**
3) Coil
4) Coil spring (this one is on the plunger)
5) Crank Assembly
6) Nut / screw for tightening flipper bat shaft
7) Flipper coil stop (partially hidden in photo)
8) Solenoid Bracket
** Diodes are also used on EM pins with DC solenoids.
*Second switch options include these switches: 
Bally / Williams / Stern upper flipper switch can use this switch.  
The original part numbers are: #ASW-A10-45 (Bally) / #SW-481 (Stern) (or a combo switch) and #SW-1010A-12 / SW-1010B (Williams).
A Williams lane change switch is #SW-1A-15.  Other options include these switches. 
Note: Click on the image for a larger picture.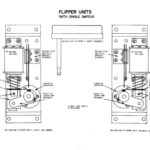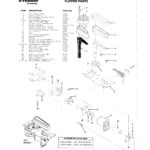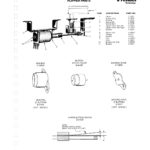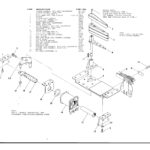 Linear Style – Bally Flipper –
With Lane Change or Upper Flipper Switch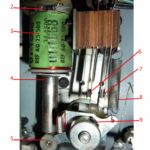 1) Coil stop
2) Diodes
3) Coil
4) Spring
6) EOS switch with
c) Upper flipper switch (not on all models)
7) Crank Assembly
a) Plunger
b) Nylon bushing
Linear flippers were used by Bally for only a short period of time. The nylon bushing wears out quickly.  These flippers can be converted to the earlier flipper mechanisms that are more reliable. Contact your parts supplier for information as to what to order for your pin.
This switch can be used for the Bally or Stern upper flipper switch if there are two switches on the flipper (see photo above).  
Williams (Not Fliptronics) Prior to ~1992
Williams flippers used in System 11 and on into 1992, are not very different that earlier flippers.  The coils are different (changed from serial to parallel  coils) that are easier on the switches and are different coil numbers.  There is also a capacitor located near the EOS switch.
Description (click on image):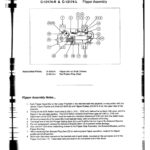 2) EOS Switch
4) Capacitor (new one comes with a kit) 2.2 uF
15) Coil Stop
17) Flipper Coil
20) Coil plunger spring
21) Crank Assembly
23) Bushing
Williams Fliptronics – EOS switch is open
Note: DE/Sega/Stern is similar.  EOS will be closed.
This is a typical setup in a Williams Fliptronics pin.
1) Coil Stop
2) Diodes
3) Coil
4) Spring (note its position here)
5) Crank Assembly
6) EOS switch (normally open NO)
7) Bolt holding flipper bat shaft
Note: Click on any image or links for a larger image.
The diodes as shown in this image should never be left 'swinging in the breeze' like in this photo.  They are likely to break.   The diodes should be pulled tight to the coil tabs.
DE/Sega/Stern Flipper Mechanism (from 2002)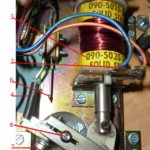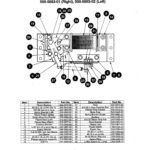 1) Coil Stop
2) Wire connections (no diode)
3) Coil
4) Spring
5) Crank Assembly
6) EOS switch (broken in this photo is normally closed NC)
7) Allen bolt to tighten the flipper shaft
8) Shaft to flipper bat
Coil Stops
Coil stops determine how far the flipper opens.  A shorter coil stop will allow the flipper to open more.  A longer coil stop will restrict the flipper opening to a shorter distance.  A long coil stop, resulting in a shorter opening could make it more difficult to 'cradle' a pinball in a flipper.
From The Pinball Resource:
A-12390 = 0.420″  Williams/Bally games from 08/1993 to 06/1999
A-12111 = 0.370″  Williams/Bally games from 02/1988 to 04/1993
A-10821 = 0.330″   Games prior to 1988 and after the first generation SS games.**
A-8143, A-7414, A-6492 = 0.3125″ Used on later EM pins and early SS.***  
** From PinballLife: – Used on Laser Cue, Space Shuttle (some machines, but not all), Sorcerer, Comet, High Speed, Grand Lizard, Road Kings, Pinbot, Millionaire, F-14 Tomcat, Fire!, Fire! Champagne Edition, Big Guns, Space Station.
*** From PinballLife – 'Williams flipper coil stop used from Blast Off (05/67) to Laser Ball (12/79)'
The A-8143 is not typically used on current SS pins as it is too short.
The A-10821 coil stop is the shortest and would result in the largest flipper throw.  The A-12390 is the longest and would have the shortest flipper throw. 
Most games specify a certain coil stop and therefore a throw.  The Addams Family specifies A-12111. Indiana Jones (Williams) calls for a A-12390. 
If trying to retain the original feel of a game, one should always use the specified coil stop (and coil strength).  Otherwise, there is nothing to prevent an owner from putting in a different length coil stop – although one should insure that the flipper does not strike anything in the game, nor make shots more likely to damage playfield parts.
Coil Sleeves
Rebuild kits come with coil sleeves.  If one wants to purchase them separately, for backup, The Pinball Resource has a great coil sleeve guide.  For some reason, their listing of Bally (pre-Williams) is blank.  
Marco provides this information:  Coil Sleeve – 1-3/4 X 1/2 inch. Nylon coil sleeve (plastic tubing) is the most commonly used size on all brands of pinball machines. Measures 1-3/4 overall length x 1/2 inch shaft Outer Diameter. Typically found on pop bumper, slingshots, kickers, and early solid state and electromechanical flipper solenoid assemblies.
Marco also provides this information:  Coil Sleeve – 1/2 X 2-3/16 inch.  Nylon coil sleeve or tubing measures 2-3/16 x 1/2 inches shaft OD.  Typically used on Williams post-1980, Bally post-1988, Data East, Sega, and New Stern flipper coil assemblies.
Comments
Comments, including suggestions, improvements, errors, etc. are welcome (see below).
If you have a specific question about your game that does not directly apply to flipper components, please see our FAQ section.