Tips for the pro home pinball repair person.  
If you are going to clean up a pinball playfield, doing it in the cabinet is a pain.  Here is a simple to build rotisserie that can be folded up and put away when you are done.  Want something different?  Here are links to lots of different ideas.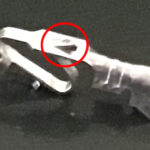 Crimping wires to 0.100 and 0.156 connectors can be hard to do, but not if you know these secrets.
Those AA and rechargeable batteries will leak and ruin that expensive board.  Here is how to get rid of them.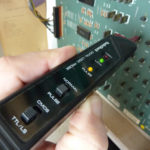 When working on SS pinball machines, the most valuable electronics tool is the Digital Volt Meter (DVM).  But second most valuable is a digital logic probe.  With a little help, you can use it too.  Here is how.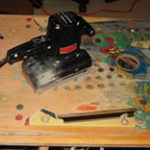 New pinball playfields are expensive.  While mylar overlays are less common now, they are a great economical alternative and, done properly, can look like the original playfield.  Here is how to do it.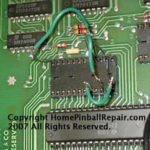 Having problems with the Gottlieb System 80 CPU?  If there was only a way to test it.  Here is how to get that CPU to send out constant digital signals to help you troubleshoot.
Stern's LOTR pinball machine was so popular, they made a second run.  To make it even better, they changed the software so it would control a shaker motor.  Here is how to make the original run LOTR run the new software and install the shaker motor.
Great Plains Electronics (GPE) sells a handy kit for replacing the high voltage components in the Bally / Williams WPC DMD control board.  Here is a handy cheat sheet to make it easy to find the components to replace.