Flipper Parts
Components – Typical setup in an EM or early SS pin.
1) EOS switch (and sometimes, lane change switch combination)
2) Diode (SS pins only)
3) Coil
4) Coil spring (this one is on the plunger)
5) Crank Assembly
6) Nut / screw for tightening flipper bat shaft
7) Flipper coil stop (partially hidden in photo)
8) Solenoid Bracket
Note: Click on the image for a larger picture.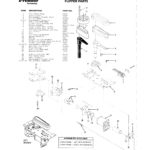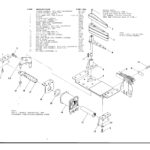 Linear Style – Bally Flipper –
With Lane Change or Upper Flipper Switch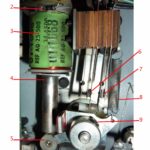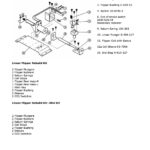 1) Coil stop
2) Diodes
3) Coil
4) Spring
6) EOS switch with
c) lane change or upper flipper switch (not on all models)
7) Crank Assembly
a) Plunger
b) Nylon bushing
Linear flippers were used by Bally for only a short period of time. The nylon bushing wears out quickly.  These flippers can be converted to the earlier flipper mechanisms that are more reliable. Contact your parts supplier for information as to what to order for your pin.
Williams (Not Fliptronics) Prior to ~1992
Williams flippers used in System 11 and on into 1992, are not very different that earlier flippers.  The coils are different (changed from serial to parallel  coils) that are easier on the switches and are different coil numbers.  There is also a capacitor located near the EOS switch.
Description (click on image):
2) EOS Switch
4) Capacitor (new one comes with a kit) 2.2 uF
15) Coil Stop
17) Flipper Coil
20) Coil plunger spring
21) Crank Assembly
23) Bushing
Williams Fliptronics – EOS switch is open
Note: DE/Sega/Stern is similar.  EOS will be closed.
This is a typical setup in a Williams Fliptronics pin.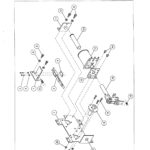 1) Coil Stop
2) Diodes
3) Coil
4) Spring (note its position here)
5) Crank Assembly
6) EOS switch (normally open NO)
7) Bolt holding flipper bat shaft
Note: Click on any image or links for a larger image.
DE/Sega/Stern Flipper Mechanism (from 2002)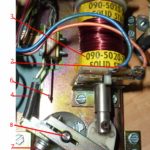 1) Coil Stop
2) Wire connections (no diode)
3) Coil
4) Spring
5) Crank Assembly
6) EOS switch (broken in this photo is normally closed NC)
7) Allen bolt to tighten the flipper shaft
8) Shaft to flipper bat